Determining if a climb of Kilimanjaro is harder than a trek to Everest Base Camp shouldn't be that difficult. Kilimanjaro stands at 19,341 feet in arctic-like conditions while Everest Base Camp sits at 17,650 feet and often out of the snow. Kilimanjaro's overall summit success rates have been around 40 percent while Everest Base Camp is a lofty 90 percent. So which is harder should be a no brainer.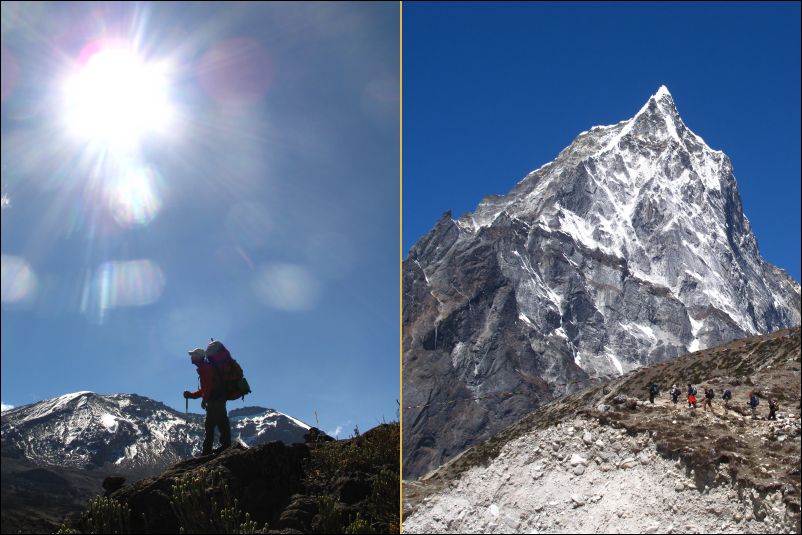 Judging by recent posts on Tusker's VIP Adventure Group by those who did both trips, Kilimanjaro appears to be the tougher haul. Traveling with Tusker Trail yields success rates of over 90 percent for both destinations, but before you opt for one or the other based on how difficult these treks are consider another question. Does the destination or the journey fuel your adventure travel spirit? If you're a peak-bagging destination junky, Kilimanjaro is your hot spot despite its frozen summit.
For those who want their mountains mixed with cultural contact, trekking to Everest Base Camp through centuries-old Himalayan villages, is more your cup of jasmine tea. Degree of difficulty may not be your most important issue.
Still the question needs a full exploration: which is harder?
Measuring degree of difficulty
When considering any long distance trek the obvious considerations are distances, altitude gain and weather. Getting to Everest Base Camp will require 14 days of trekking of around 75 miles whereas you can do Kilimanjaro in less than 50 miles in five days. That rushed schedule makes the African behemoth more challenging.
Kilimanjaro's weather is tropical rainforest at the start, but treeless Arctic at the summit. Nepal's climate is more consistently temperate, but when comparing Kilimanjaro to Everest Base Camp the most defining issue is how much time does your itinerary give you to acclimatize to high altitude.
The reason only 40 percent of the over 40,000 Kilimanjaro summit candidates succeed is because most of them try and make a shorter climb and they get high altitude sickness. Kilimanjaro's economics require many smaller companies to offer clients rushed, cheaper five day trips on the Marangu Route, but that is not enough time to allow you to adjust to the thin air.
Taking the hard edge off Kilimanjaro
Tusker's Kilimanjaro summit success rate is over 90 percent annually because it offers longer trips from 8 to 14 days on four of Kilimanjaro's eight routes. Tusker recently added the eighth route, the Tusker Spiral over 14 days and has almost a 100 percent summit success rate so far. Tusker guides have a high level of high altitude medical training that help with altitude issues. While this is your safety net it remains challenging.
Everest Base Camp trips are much more predictable in that they unfold over 12-15 days over one historic route that has many switchbacks and stone laid sections. There are overnight stays in Namche Bazaar and Pheriche that allow you to spend time acclimatizing at altitude. You can buy fine pastries along the way or your favorite junk food so in many respects it is far from Kilimanjaro's wilderness experience and all the curve-balls that entails.
Everest Base Camp's more leisurely pace allows your legs to recoup from the previous day's grind, but also a chance for your respiratory system to acclimatize. You will cover nearly double the distance on the well-trodden Everest Base Camp trail compared to Kilimanjaro's scree and volcanic rock trails. Despite the extra distance many consider Everest Base Camp easier than Kilimanjaro because of the chance to acclimatize.
Creature comforts
There is no comparing the two trips when considering creature comfort.
On Kilimanjaro you will camp out, in Nepal you will sleep inside reasonably warm tea houses on either beds or foam mattresses. A good night's sleep can make a huge difference in enjoying the trip.
The better infrastructure in the five villages you pass through contrasts with the small tent city you will be part of on Kilimanjaro's slopes. Tusker invests in top flight tents, air mattresses and camp gear for Kilimanjaro, and provides showers; still you're camping and sleeping on the ground.
Traveling with Tusker Trail offers the best food on the mountain as the company has trained its Tanzanian cooks to Culinary Institute of America standards. Tusker's owner guides, Eddie and Amy Frank have imported their foods standards on the Nepal trip to safeguard clients from Nepal's poor sanitary conditions and has reduced the risks of stomach issues there.
Summit night
In the past the biggest difference between the Everest Base Camp trek and the Kilimanjaro climb was summit day. Most companies did the summit climb in the dark hours to make the summit by sunrise. This 4,000 foot ascent in sub-zero temperatures was a military style assault but Eddie changed the format. Now all Tusker summit days on Kilimanjaro are done in daylight and the descent has been broken into two days with the last night spent camping at 16,000 feet.
But for those who climbed the old itinerary, the difficult summit night start was the toughest part of the Kilimanjaro climb. "Nothing on the Everest Base Camp trip was as challenging as summit day on Kilimanjaro," writes Tusker vet, Don Maxon. "However the number of days on the Everest Base Camp trek took its toll…comparing the two is challenging. Both are in the same category of extraordinary life experiences."
The final leg to Everest Base Camp has always been much less taxing and to some degree less rewarding. It's a seven hour hike to Everest Base Camp in daylight with a stop in Gorak Shep for lunch and a rest. You will get an amazing vista of Mount Everest (over 29,000 feet) and it's slightly lower peaks above you, but chances are you won't get the same satisfaction of summiting one of the world's seven summits as you do on Kilimanjaro.
Eddie reminds clients that the hardest part of the Everest Base Camp trek is dealing with the frequent steep up and down sections over 12 days. For some clients this terrain is more taxing on legs, knees and ankles than Kilimanjaro. The last two days on Kilimanjaro, a descent into the Karanga Valley, are the most physical parts of the Kilimanjaro climb, Eddie said.
Destination VS the journey
For some people hiking through villages with yaks on the trail and markets brimming with local commerce is not why they hike. They prefer to be in raw unfettered nature and don't mind roughing it. For them that is part of the mystique while getting to Everest Base Camp may be a mental hardship.
Others embrace the cultural richness of meeting the local merchants and their children then spending time in a centuries old monastery embracing Buddhism. For them the destination is not as important as the journey. They don't need to overcome physical hardships along the way to show how tough they are.
Climbing Kilimanjaro is a punch in the gut test of one's mental and physical ability. The cultural contact is with your highly trained African guides and porters who will tap into your mental and spiritual reservoir giving you the boost you may need to make it to the top. This contact is often deeper than the commerce driven contact you will have with merchants or tea house staff in Nepal.
Getting to the summit of Kilimanjaro puts you in the club of the world's top climbers who have been to the top of earth's seven summits. It's definitely an ego trip to say you landed at the top of Africa.
Hard is sometimes best
Is attaining Kilimanjaro's summit harder than getting to Everest Base Camp? Yes. Knowing that helps you make the choice. Don't take our word for it, better to do both Kilimanjaro and Everest Base Camp and answer the question for yourself.
These are very different trips and those who have done both are grateful they had the opportunity.