Making the Cut
Each year, Outside Magazine puts together a well-researched "hot list" of top adventure trips for the upcoming year. Back in 2011, Outside came up with the most creative list in years.
Tusker's signature MONGOLIA NOMAD TREK landed itself on Outside's esteemed hot list.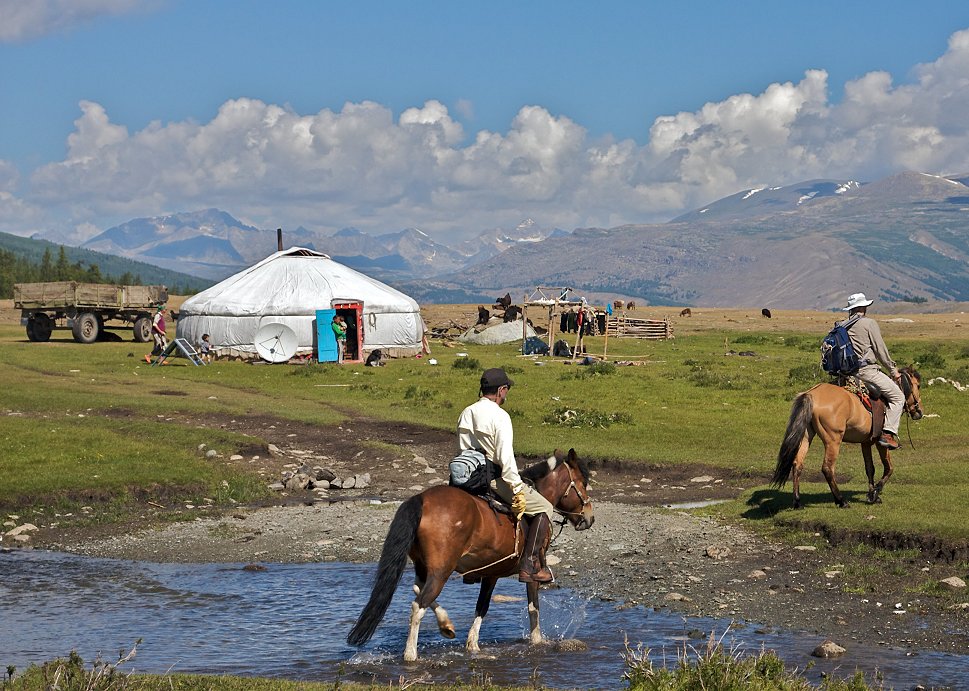 What did the editors at Outside see in Tusker's Mongolia Trek that distinguished it from hundreds of other adventure trips? Perhaps it's the landscape: Emerald meadows and open steppe, forested valleys and thick marshland, turquoise alpine lakes and glaciated peaks. And probably also the spectacular biodiversity: Siberian Ibex, lynx, snow leopard, brown bear and Saker falcons. And most definitely the culture: the warmth and heart of the Kazakh nomads, Ger camps, Naadam Festival, and Golden Hunting Eagles.
In short, Tusker's trek through Western Mongolia's 2,456-square-mile Altai Tavn Bogd National Park, is nothing short of magical.  And now, 12 years later, it's Eddie Frank's favorite trek, and he guides the trek every year.
What's Not to Love?
Tusker's signature trek is a 100-mile trekking and horseback trip in the far west of the park, and from the nations capital, Ulanbaatar, it takes a two-hour flight, and then an 8-hour drive just to get to the starting point of the trek. It's remote. You start in a remote locale and as you trek, you just get further and further from civilization. Mongolia is about twice the size of Texas, with over forty percent of the population living in Ulanbaatar. Vast areas are wide open, undeveloped and uninhabited. It is a place that can make Big Sky Montana look like average sky country. It goes without saying that you can't just show up in Mongolia with a backpack and a canteen and hope to survive. In a world that is increasingly connected and globalized, Western Mongolia's remoteness is another attribute that sets it apart (literally!) from other adventure destinations.
In addition to the other worldly beauty of the landscape and the remoteness of location, part of the magic is the warmth of the Mongolian people, combined with their hospitality, sense of community, and musical traditions. And time spent with the Mongolian Kazakh nomads, who live the same way their ancestors did many centuries ago, is also a huge part of the experience on Tusker's trek.
You can either ride a horse, hike or do both.  And Eddie runs an incredible horse riding clinic if you want to learn or just improve your riding skills.
Trekkers will camp on the banks of the spectacular lakes, rivers and glaciers, with a few nights in the Ger camps and city hotels.  And  most often, the Kazakh hosts are game to show their visitors a thing or two about their 1,000-year old horseback skills.
Pack Your Bags
The bottom line is that if you travel to Mongolia with Tusker Trail, you will be traveling through a land so eye-poppingly beautiful and remote, and full of cultural treasures, that you will never look at the world the same way again. It's no joke.
There is currently a few places left on Tusker's June & July treks this year.  But space goes quickly, so call the Tusker office today and get on board today!
Call 1.800.231.1919 or +1.775.833.9700