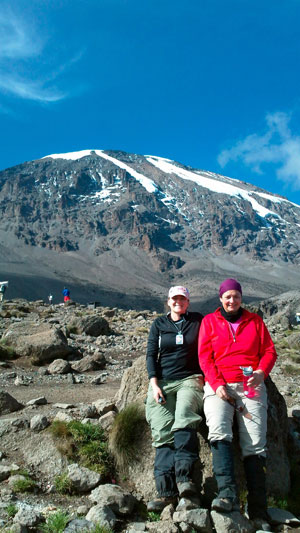 Discovering UpKili
"UpKili for breast cancer- what's that?" I was asked this question many times during the two years of preparation prior to my Kilimanjaro hike. I'd proceed to tell them that it is a hike up the tallest free standing mountain in the world and hikers raise money for breast cancer. It was inspired by Amy Frank, a breast cancer survivor and one of the owners of Tusker Trail. I would go on to tell them that I had always wanted to see Kilimanjaro and when I heard about climbing the mountain for breast cancer I was hooked and knew that I wanted to hike it. It was great to combine a long time dream of mine with raising money
for a good cause.
Upon returning from Tanzania and this hike, my response to the question, "What's UpKili for breast cancer?" is very different. It was fabulous and life- changing. It was a testament to teamwork and camaraderie. It was led by an outstanding tour organization. I could go on and on. This trip was indeed spectacular. In large part, this was a result of the expertise and skill of the Tusker Trail staff, guides, and porters.  From the preparation in the home office, to the arrival in Moshi, to the climb and departure, everything was well planned, organized, and delivered with first class customer service. Most importantly, was the skill that each guide had at knowing how to manage altitude symptoms while on the mountain.  My oxygen saturation dropped below 90 percent on day two of the hike and continued to drop
a little bit each day until summit day. As a nurse, I knew that this could be very dangerous. As I watched the guides handle the medical concerns of trekkers over the first several days, I grew to trust that they knew which symptoms they could manage and which ones required the hiker to descend. I trusted that they would do all that they could to help me accomplish my goal of summiting without risking my health.
Sharing the Journey
Highlights of the trip were the scenery and passing thru the five distinct ecosystems. It goes without saying that the mountain provides some beautiful views. One of my favorite was the clearness of the sky in the middle of the night. On day three of the hike, I was awakened at 4:00 am by the need to use the
"facilities". When I left my tent, I discovered a beautiful view of the mountain plastered against the backdrop of a star filled sky. After that night, I arose to use the toilet at least once every night just to view those skies. Well worth the trip to the outhouse!
Another highlight of the trip was the group of hikers that shared this incredible journey. I've never been with such an awesome group of 12 people. Everybody seemed to get along and were as committed to seeing each other make it to the top as they were at summiting themselves. When we reached the top of the mountain, not one of us said, "I made it to the top of the mountain." Instead it was, "WE made it to the top." Most inspiring was our 79 year old fellow hiker (Babu) Raymond. His attitude and the grace at which he conquered this mountain will be with me forever. Most days, he led the pack. We started with 12 hikers and 12 of us stood on Uhuru peak together – a testament to the work of the team and to the expertise of the Tusker guides.
I couldn't speak about the high points of this trip without mentioning Summit Day. On this day we woke at 4:00 am for a 5:30 am departure. I knew that it was going to be a long day. After about an hour of
putting one foot in front of the other, I started to have difficulty catching my breath. I was afraid to say something to the guides because I thought that they might make me stop and go back down the mountain. But our guide, Eli Akim, noticed my difficulty breathing, and before I could say anything he had one of the extra porters, Happy Goody, assist me by carrying my day pack the rest of the way up
the mountain. Without his assistance, I am not sure that I would have made it to the top. We reached the peak at about 1 pm – we had accomplished our goal of summiting the tallest mountain in Africa.
Honoring Survival
As a breast cancer survivor myself and in the spirit of "UpKili for Breast Cancer", I hiked in honor of those living with breast cancer and in memory of the many that have been taken by this disease. I kept these women in mind on summit day when the hiking was difficult and at times painful. I took each step for somebody I knew who had survived breast cancer. Many strides were in memory of those women whose steps were cut short because of this disease.
Now when people ask me "What's UpKili for Breast Cancer?", I tell them that it was one of the most phenomenal experiences of my life – one that has shaped my thoughts forever. If you are at all considering this hike, you should schedule it soon. Do not wait any longer and make sure that you book it with Tusker Trail. I am forever grateful to them for creating the environment that made this climb such a terrific experience, and for getting me to the "Roof of Africa"!